Golf Shops
Cottonwood and Palo Verde Pro Shops have a full line of Ladies' and Men's apparel available featuring brand names such as E.P. Pro, Foot-Joy, Bette, Court, and Antigua.
For game improvement, we have golf professionals available for golf lessons by appointment, both private lessons and small group lessons. We also have demo days available with Ping and and various other manufactures.

The entire Golf Staff has been certified to fit Ping Golf Equipment. SLHOA#2 has the fitting cart for you to be professionally fitted for game improvement. Please call Cottonwood Golf Shop at 895-9449 or Palo Verde Golf Shop at 895-0300 to set up an appointment to be fitted. There is no charge for the fitting.
SUMMER HOURS
COTTONWOOD PRO SHOP
Monday-Sunday 5:30 a.m.-1 p.m.
6 a.m. Tee Times
7 a.m. & 11:30 a.m. Shotguns
PALO VERDE PRO SHOP
Monday-Sunday 5:30 a.m.-1 p.m.
6 a.m. Tee Times
7 a.m. & 11 a.m. Shotguns
Lessons / Fees
Private Instruction:
$40.00 - per ½ Hour
$180.00 - Series of (5) ½ Hour Lessons
$70.00 - Playing Lesson - per 9-Holes
Group Clinics: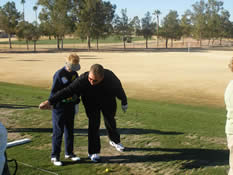 Golf Clinic Schedule
Golf Clinics begin in November. on Wednesdays and Saturdays from 9:30 - 10:30 a.m. at Cottonwood Golf Course. Cost $10 per person per class.
All Instruction is by Appointment
Student Pays Instructor (Check or Cash)
Call the Pro shops to sign up. Cottonwood 895-9449, Palo Verde 895-0300